Today's startups are addressing the world's most pressing issues, and artificial intelligence (AI) is one of their most powerful tools. To empower startups to scale their business towards success in the rapidly evolving AI landscape, Google for Startups Accelerator: AI First offers a 10-week, equity-free program for AI-first startups in partnership with Google Cloud. Designed for seed to series A startups based in Europe and Israel, the program helps them grow and build responsibly with AI and machine learning (ML) from the ground up, with access to experts from Google Cloud and Google DeepMind, a mix of in-person and virtual activities, 1:1 mentoring, and group learning sessions.
In addition, the program features deep dives and workshops focused on product design, business growth, and leadership development. Startups that are selected for the cohort also benefit from dedicated Google AI technical expertise and receive credits via the Google for Startups Cloud Program.
Out of hundreds of impressive applications, today we welcome the inaugural cohort of the Google for Startups Accelerator: AI First. The program includes 13 groundbreaking startups from eight different countries, all focused on different verticals and with a diverse array of founder and executive backgrounds. All participants are leveraging AI and ML technologies to solve significant problems and have the potential to transform their respective industries.
So with no further ado, we present to you the inaugural Google for Startups Accelerator: AI First cohort: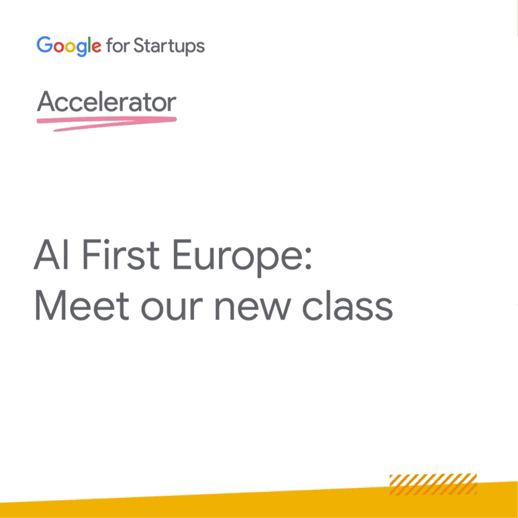 Congratulations to the cohort!
To learn more about the AI-first program, and to signal your interest in nominating your startup for future cohorts, visit the program page here.