Communication Service providers (CSPs) are facing a new dynamic where they have a digitally savvy customer base and market competition is higher than ever before. Understanding customers and being able to present them with relevant products and services in a contextual manner has become the focus of CSPs. Digitization and hyper-personalization will be powering the growth of CSPs in the new world.  
Data shows that personalized offers drive to up to 30% increase in sales and 35% increase in customer lifetime value. In fact, over 90% of the CSPs surveyed in a Delta Partners Global Telecom Executive Survey expect sales and queries to increase digitally in the post-pandemic world, and 97% are showing a commitment to improving and investing in digital growth channels. 
At Google Cloud, we are harnessing Google's digital marketing learnings, capabilities, and technology, and combining them with our products and solutions to enable customers across industries — including CSPs — to help accelerate their digital transformation as they prepare for the next wave of growth.
Today at Mobile World Congress 2023 Barcelona, we announced Telecom Subscriber Insights, a new service designed to help CSPs accelerate subscriber growth, engagement, and retention. It does so by taking insights from CSPs' existing permissible data sources such as usage records, subscriber plan/billing information, Customer Relationship Management (CRM), app usage statistics, and others. With access to these insights, CSPs can better recommend subscriber actions, and activate them across multiple channels. 
Key use cases
Telecom Subscriber Insights is an artificial intelligence (AI) powered product that CSPs' line of business (LOB) owners can use to improve key performance indicators (KPIs) across the subscriber lifecycle — from acquisition and engagement, to up-sell/cross-sell, and reducing customer churn.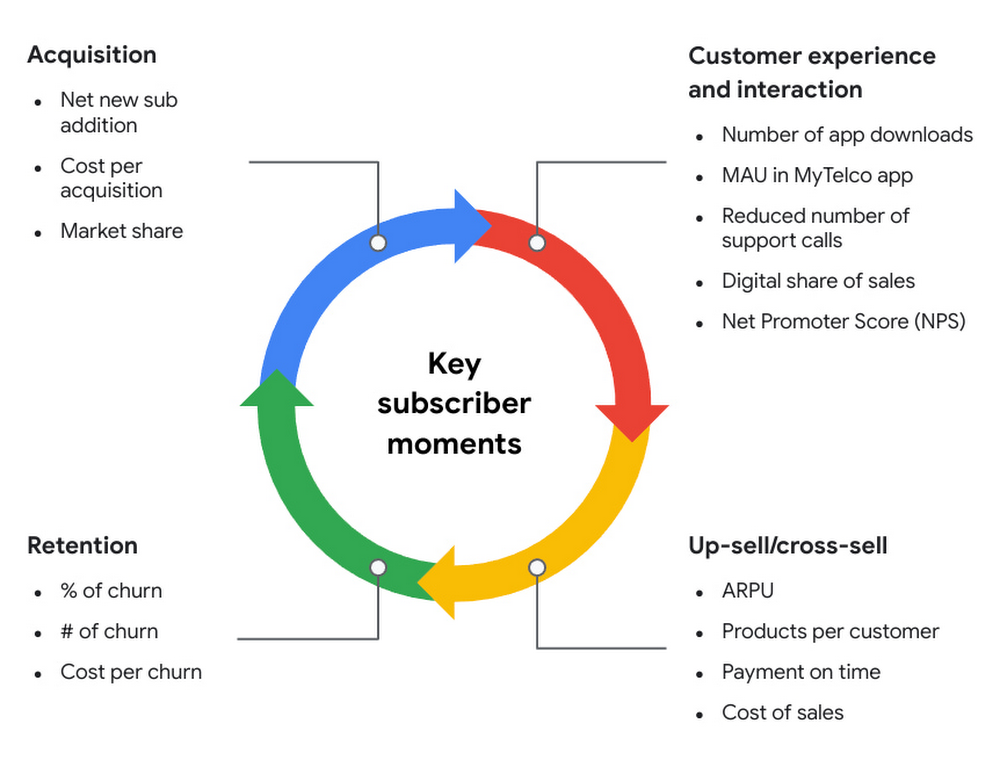 Subscriber acquisition
Increasing the number of new acquired subscribers, while also reducing the cost of acquisition, is a key goal for CSPs. Telecom Subscriber Insights helps CSPs achieve this goal by helping to reduce friction to subscribers throughout the onboarding process, and make the experience simple and elegant with one-click provisioning. 
Subscriber engagement
As CSPs have expanded beyond physical stores into the digital world, they have changed the way they engage with consumers — using digital channels to learn more about subscriber interests, needs, and to help personalize their offerings. In this new engagement model, CSPs are not only looking to increase digital engagement through their app, but also reimagine and increase the quality of that engagement. 
Telecom Subscriber Insights provides contextual and personalized recommendations that can enable CSPs to interact with subscribers in their app, helping to improve key KPIs associated with digital engagement.
Up-sell/cross-sell
Quality subscriber engagement is rewarding on both sides: subscribers are delighted by more contextual and personalized offers, and business owners can improve customer loyalty and growing revenue through product cross-sell/up-sell opportunities.
Telecom Subscriber Insights supports contextual and hyper-personalized offers, and can enable CSPs to deliver targeted engagements that help meet the needs of subscribers with product and services offers, while helping to ensure subscribers are not overloaded with unwanted offers.
Reducing customer churn
Throughout the customer lifecycle, CSPs are focused on delivering quality products and services to their customers to help drive customer lifetime value and reduce potential churn. 
Telecom Subscriber Insights helps CSPs identify segments of subscribers who have a high propensity for churn, and recommends the next best offers to help retain customers.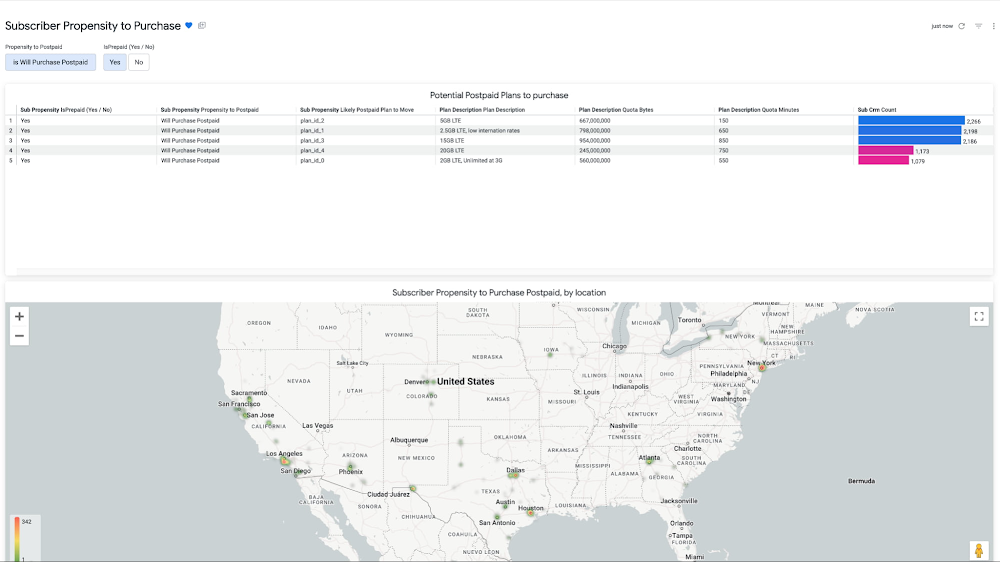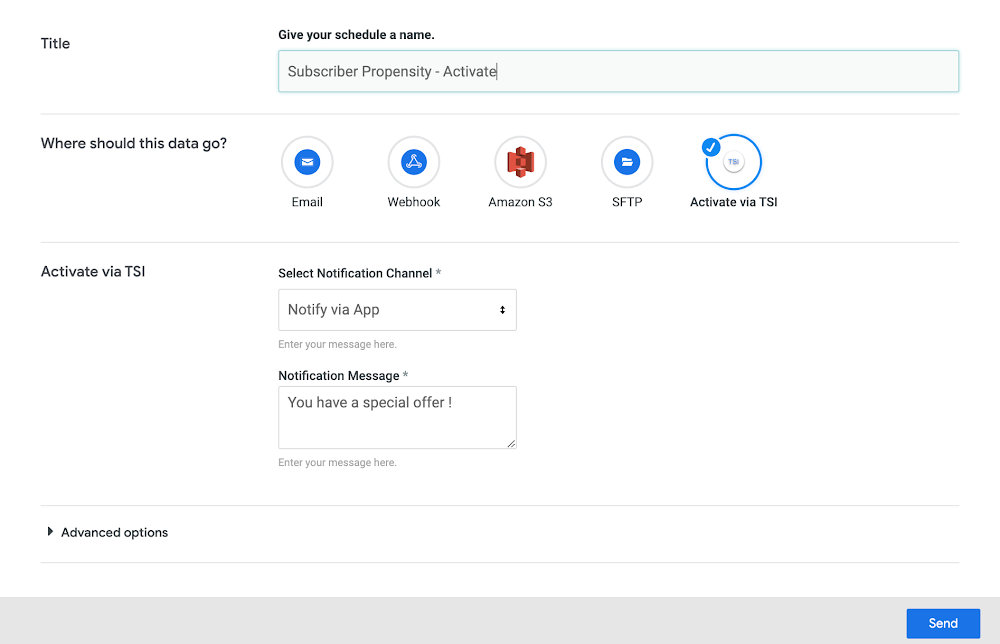 The technology driving insights
Telecom Subscriber Insights is a cloud-based AI powered first party product built on proven Google Cloud tools that ingests data from various sources to help forecast subscriber behavior, and recommend subscriber segments who are probable to upgrade, and probable to churn. The solution also recommends appropriate actions to CSPs including identifying Next Best Offers (NBOs) based on the identified segments. CSPs are provided with integrations to multiple activation channels, helping them close the engagement with subscribers based on recommended actions. Google Cloud values other Independent Software Vendors (ISVs) who continue to complement Telecom Subscriber Insights with their own offerings built using the same Google Cloud tools.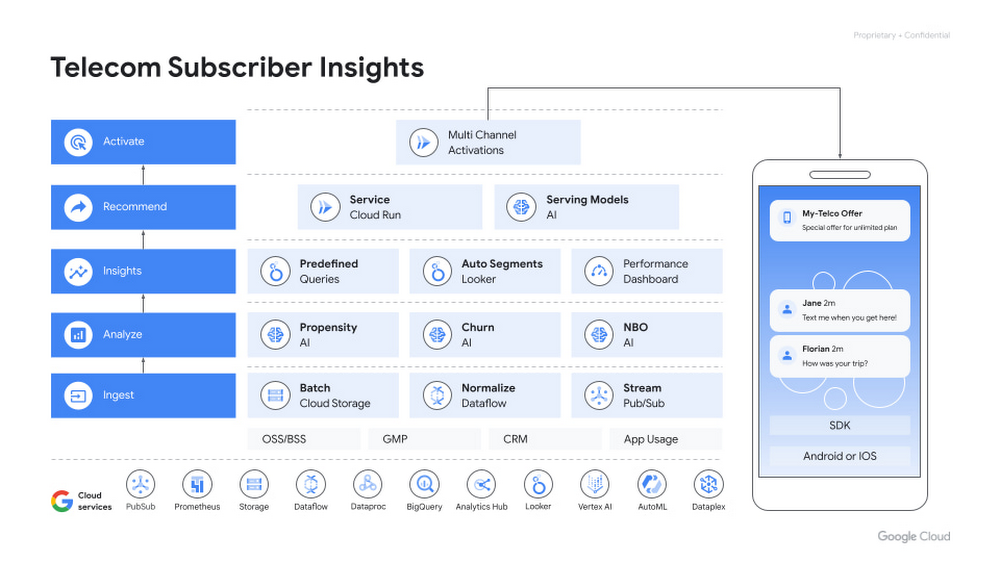 Telecom Subscriber Insights offers a variety of capabilities, as follows:
Ingesting and normalizing Telecom subscriber data
Various data sources such as CSPs' OSS systems, CRM, and various other sources are ingested into BigQuery. Data is then normalized to pre-defined data models. The data could be ingested with simple APIs through batch upload, or streamed using standard Google Cloud technologies. 
Pre-trained AI models
Predefined data models help in continuous training of various machine learning (ML) models to provide results with high efficacy. The model can be further fine-tuned on a per-deployment basis for granular performance. ML models including propensity, churn, NBO, segmentation, and many more are carefully selected to meet CSPs' business objectives. Telecom Subscriber Insights can integrate with some other proven ML models, where applicable, with an ecosystem approach to help enrich our offering to CSPs.
Automated data pipeline
Telecom Subscriber Insights provides an automated data pipeline that stitches aspects of data processing —  from data ingestion, transformation, normalization, storage, query, to visualization — helping to ensure customers need to expend near-zero effort to get started.
Multi-channel activation
Subscribers can be reached on various channels including SMS, in-app notifications, and various other interfaces. To make integration easy without introducing new interfaces to subscribers, CSPs can embed Software Development Kits (SDKs) as part of their current apps and interfaces. Telecom Subscriber Insights is built on the premise of invoking multiple activation channels using a one-click activation on the marketing dashboard, so the CSP can reach the subscriber in a contextually appropriate manner.
One-click deployment and configuration 
Telecom Subscriber Insights is available as a customer-hosted and operated model. The software is packaged in an easy-to-consume Google Cloud project that is built and transferred to the customer when they purchase the product. The Google Cloud project includes the necessary software components, which Google remotely manages and upgrades over a control plane. This model helps ensure that customers have to do near zero work on an ongoing basis to have the latest AI models and software, while benefiting from operating the software on their own, with full control.
Get started with Telecom Subscriber Insights today
Telecom Subscriber Insights features a very simple pay-as-you-go pricing model that charges only for the population of subscriber data that is analyzed. This enables customers to prove value with a proof of concept (PoC) with a small subscriber footprint before rolling it out across the entire subscriber base. Find out more about Telecom Subscriber Insights by visiting the product page, and reach out to us at telecom_subscriber_insights@google.com