Generative AI is driving the next phase of cloud transformation for communications service providers (CSPs). Although we are still in early days, significant progress has been made towards realizing the promise of gen AI in telecommunications. Google Cloud has been broadening and enhancing the capabilities of its foundation models, democratizing gen AI usage by simplifying model development, enhancing the reliability of gen AI responses, and addressing integration with enterprise systems. 
At the same time, CSPs have been creative in developing a broad range of applications — and in some cases, they have started to put these applications into production use. In this blog, we explore some of the key gen AI developments from Google Cloud and how they benefit CSPs, and provide high-level architectures for some common gen AI applications.
A portfolio to support the different needs of gen AI centric enterprise development
Google Cloud offers a range of foundation models for processing and generating text, code, and images: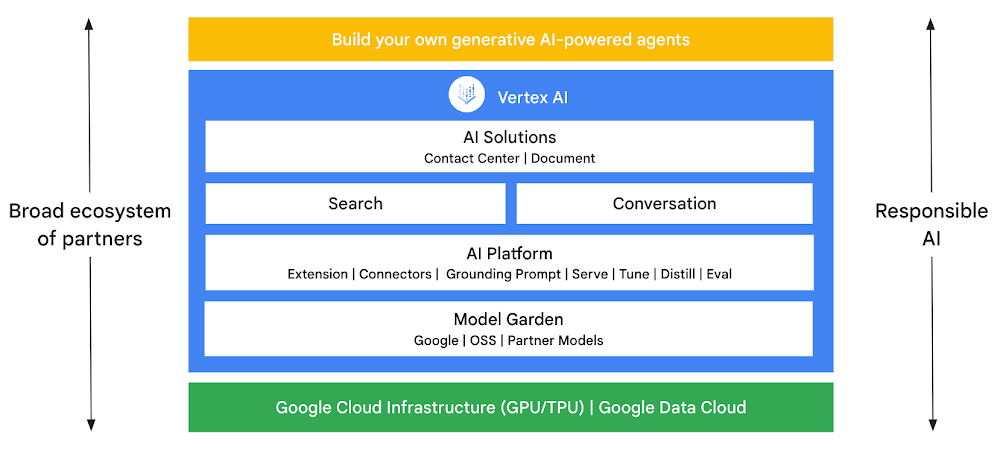 These models offer control to AI practitioners through APIs or Generative AI Studio, letting them, for example, control the model used or the length of text segment submitted to the model. Vertex AI unlocks gen AI development by automating several integration and configuration tasks, and can be used by developers with no AI background. Google Cloud's Vertex AI Search can process long documents for developers, meaningfully accelerating the development and deployment of high-value intelligent apps. For all our recent developments, be sure to check out our gen AI sessions from Next '23.
CSP gen AI use case momentum 
As we partner with our customers on their gen AI journeys, we have seen a large number of CSP-specific applications being pursued in areas including:
Network operations,

Employee experience, 

Customer retention and average revenue per user (ARPU) growth.
CSPs are rapidly deploying gen AI in their daily business to summarize, categorize, or identify the sentiments in texts, generate email or web content, and answer questions by extracting the information from large corpora of documents using foundation models or products like Vertex AI Search and Conversation. Using these solutions, they are increasing employee productivity and creativity while achieving greater customer engagement and satisfaction. 
Let's take three CSP applications and explore the applicability of their high-level architectures for other applications. 
Network outage root cause analysis using Vertex AI Search
Analyzing the root causes of a network failure requires mining through several logs, vendor documents, past trouble-tickets, and their resolutions. Vertex AI Search enables CSPs to build a chatbot that can extract relevant information from both structured and unstructured data, and significantly shorten the time for a human engineer to identify probable causes.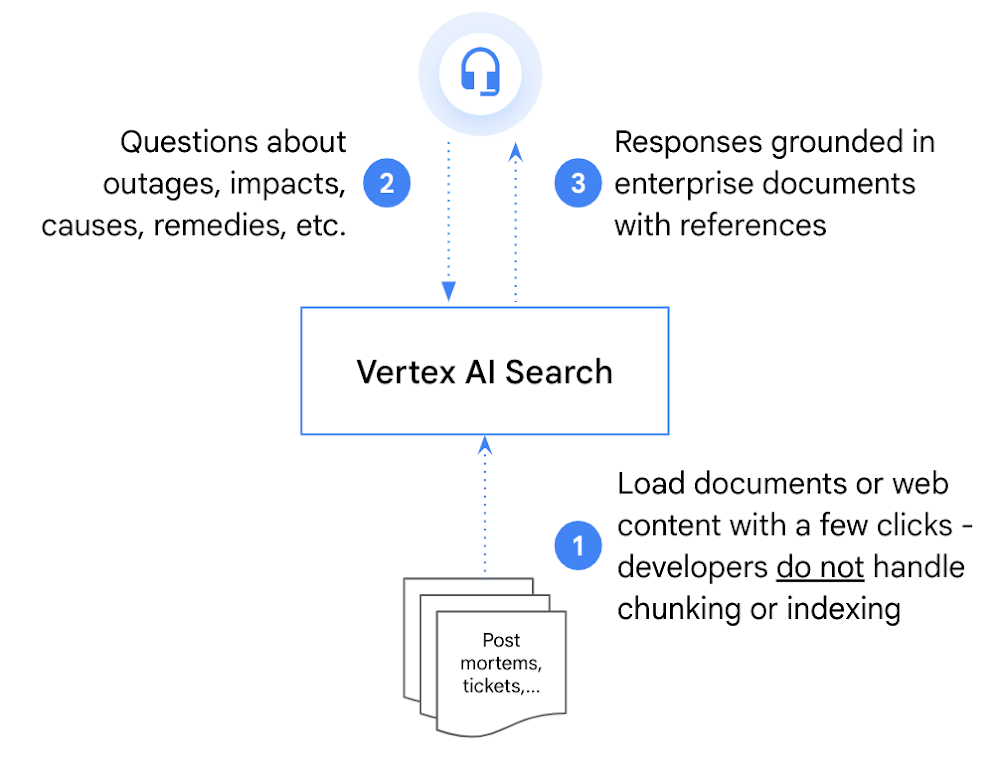 The implementation architecture above shows the simplicity in deploying this application. Thousands of documents can be loaded and indexed in a few hours with just a few clicks, with a chatbot ready for testing. 
A number of CSPs have used the above architecture to develop chatbots in various domains. For example, Vodafone is experimenting with Vertex AI Search. Vodafone Voice and Roaming Services has over 10,000 contracts with other telecommunications companies worldwide in a variety of formats, and searching this document repository is often a time consuming process for employees. "We are building an intelligent assistant to securely and quickly search contracts," said Sherif Bakir, CEO of Vodafone Voice and Roaming Services, about Vodafone's use of Vertex AI Search. "With generative AI, we're accelerating otherwise protracted processes, increasing productivity and operational efficiency." 
Empowering employees with information and automation
Google Cloud's Contact Center AI (CCAI) has helped CSPs globally to enhance customer satisfaction and efficiency, while lowering call center costs. CCAI's Dialogflow CX is a tool for developing complex interaction flows between a user and a virtual agent. And CCAI Agent Assist can suggest turn-by-turn smart responses to human agents that can be fine-tuned for specific enterprise needs. It also provides customizable summaries for voice and chat sessions, and can determine the emotional intent of the caller through sentiment analysis. 
Organizations can now leverage Vertex AI Search and Conversation, and gen AI capabilities within Dialogflow, making it possible for CSPs to develop flows that include access to unstructured and structured information, as well as trigger actions such as scheduling a maintenance window or a technician visit using webhooks. It is also possible to generate a complex Dialogflow process from a natural language specification.
These growing capabilities are transforming the way CSPs deliver outstanding customer support. For example, "Bell is excited to explore generative AI and its applications across personalization, marketing, and customer service,'' says Michel Richer, Vice President, Data Engineering and Artificial Intelligence at Bell. "We look forward to building on our work over the past few years using conversational analytics, with CCAI as a key driver for customer experience improvement. Bell strongly believes that the developments in generative AI are going to be transformative and is looking forward to innovating and partnering in this space with Google Cloud." 
Attract and retain customers and increase ARPU using Google Telecom Subscriber Insights, PaLM, and Imagen
Google Cloud's Telecom Subscriber Insights extracts customer information from various data sources, and helps CSPs identify products and services that their subscribers can benefit from while increasing their ARPU. We are also integrating Vertex AI to enable a chatbot to improve the sales experience and targeted offers while interacting with customers in a natural dialog. Such targeted offers to customers also increase customer engagement and reduce churn. 
Google Cloud and its partners have been enabling CSPs to reap such benefits from smart customer data platforms. CSPs can now significantly enhance the speed and effectiveness of such offers by generating rich content with text, images and video for their specific sales campaigns (for example, offering 5G-based home internet service) in minutes, using simple and effective prompts. The messages to specific customers could be tailored based on their location, past buying patterns, and any insights into their current sentiments. 
Imagen can create high resolution images from user's textual prompts in various styles (for example, photo-realistic or watercolor). Furthermore, a new method of tuning for Imagen, called Style Tuning, enables CSPs to create images aligned to their specific brand guidelines or to include their unique products or designs in the generated images with a small amount of reference images. Similar few-shot text model tuning could be used to tailor the text to a CSP's corporate style. In addition, Google DeepMind SynthID offers a state-of-the art technology that embeds a watermark directly into the image of pixels, making it imperceptible to the human eye and difficult to tamper with. 
Reaping the benefits while managing the risks
We have explored enterprise-ready gen AI capabilities offered by Google Cloud in our current product portfolio, and we continue to be excited by the range of high-value use cases that CSPs are developing with these capabilities. Underpinning all of this, Google Cloud is committed to addressing the accuracy, privacy and security, regulatory compliance, and intellectual property infringement risks of gen AI, implementing strong guard rails as we adopt and implement gen AI technologies. 
We hope this blog has inspired you as you continue on your gen AI journey! Many of the foundation models, Vertex AI Search and Conversation, andTelecom Subscriber Insights are already generally available to all Google Cloud customers. You can also learn more about how Google Cloud is partnering with CSPs to deliver their cloud transformation here.